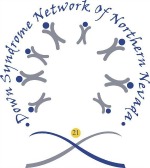 Original Logo
History
Diana Harvey and a group of family members saw a need in the community to help individuals with Down syndrome and their families. With this in mind, in 2005 Diana Harvey founded the Down Syndrome Network of Northern Nevada (DSNNN) with the vision to create a positive understanding of Down syndrome. Shortly after, the network created a variety of support programs to help make Diana Harvey's vision a reality. 
In 2009, the DSNNN was established as a 501(c)3 nonprofit organization by the state of Nevada. The DSNNN's first programs were Family Support Group, First Call, and Buddy Walk. Since then, the organization has grown to include Medical Outreach, Parent-to-Parent Trainings, and Sibshops. In 2013, the DSNNN proudly introduced two of its newest programs Club 21 and iCan Bike camp, with the goal to reach out to the disability community at large. 
The DSNNN's first logo was lovingly created by Roy Harvey, Diana Harvey's husband. The creation of this logo helped launch the organization and its mission forward. Today, the DSNNN honors this logo in loving memory of the hard work, vision, and dedication of Diana Harvey. 
Words from our Past President
It seems like yesterday when Colette McKenzie and I were sitting in Diana Harvey's living room as she told us it was her dream to start an organization to support families who have a child with Down syndrome, and asked us to continue making her dream a reality. That was seven years ago. Diana Harvey passed away in 2007 and since then, the DSNNN has grown and flourished, under Diana's watch I'm sure. Over the past seven years, we have gone from a small working board to having two part-time employees and many families and volunteers, helping us to fulfill our mission.
Diana Rovetti - Past President
Original Mission
Our mission is to create a positive understanding of Down syndrome. We provide events, information, education, and awareness as we advocate for full community inclusion of people with Down syndrome and their families. 
Original Vision
To unify and inform our community so all members are valued for their uniqueness, respected for their contributions and assured the opportunity and choice to create their own path to fulfillment and success.