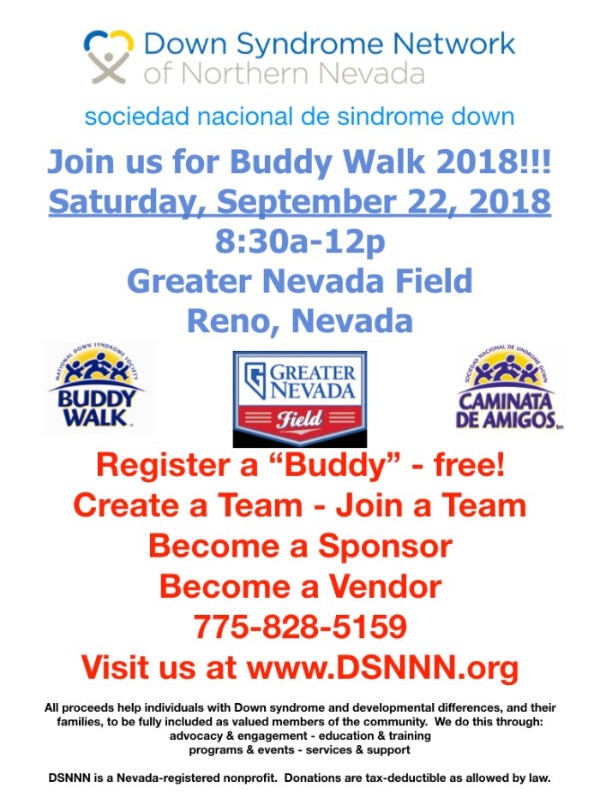 Join Us! Walk in Celebration of Down Syndrome!
The Down Syndrome Network of Northern Nevada will be celebrating the 13th Annual Buddy Walk on Saturday, September 22, 2018, from 9:00-11:00am with a Stay-and-Play from 11:00-12:00am at Greater Nevada Field. The event raises funds for the services offered by the Down syndrome Network of Northern Nevada. A portion of proceeds is also donated to the National Down Syndrome Society to fund research.
Buddy Walk celebrates people with Down syndrome, as well as those who love and support them. The event begins with a pancake breakfast, a fantastic silent auction, and a resource fair featuring local businesses, nonprofits, and state agencies. The event concludes with a lap around the perimeter to raise awareness for Down syndrome. 
New Addition! Join us for a Stay-and-Play from 11:00-12:00am. Meet & Greet with Reno 1868 FC Soccer players and Archie. Enjoy snacks and hang out with friends! 
Participants are encouraged to form teams, set fundraising goals and call on friends, family members, colleagues and community supporters to help them meet their goal.
The Buddy Walk® was established by the National Down Syndrome Society (NDSS) in 1995 to promote acceptance and inclusion of people with Down syndrome, and to celebrate Down Syndrome Awareness Month in October. The Buddy Walk has grown from 17 walks in 1995 to more than 250 walks in 2012 worldwide. In 2012 over $11.75 million was raised nationwide to benefit local programs and services, as well as the national advocacy and public awareness initiatives of the NDSS.